Ali Kaya says he used science to stay sane during his incarceration.
Thousands of academics in Turkish universities stand accused of either having supported terrorism or the attempted coup against President Recep Tayyip Erdoğan in July 2016. Theoretical physicist Ali Kaya is one of them. He was arrested three months after the failed coup and held for more than a year before his trial took place. On 20 December, a court declared him guilty of being a member of a terrorist organization and sentenced him to six years of imprisonment — but released him early owing to the time he had already served in prison while awaiting trial. Kaya says that he is innocent and is appealing against the verdict. In the meantime, he has been suspended from his academic post, and he has yet to learn whether his university, Boğaziçi University in Istanbul, plans to fire him or to await the outcome of the appeal.
Kaya says that while in prison, he kept his sanity by continuing his work on fundamental topics in cosmology. He wrote three research papers during his incarceration, on topics including inflation theory and cosmological perturbation theory. After his release, he posted the papers on the preprint server arXiv. Each contains a footnote that he dedicates to his friends in jail "who made my stay bearable at hell for 440 days between 7.10.2016 and 20.12.2017. I am also indebted to the colleagues who show support in these difficult times."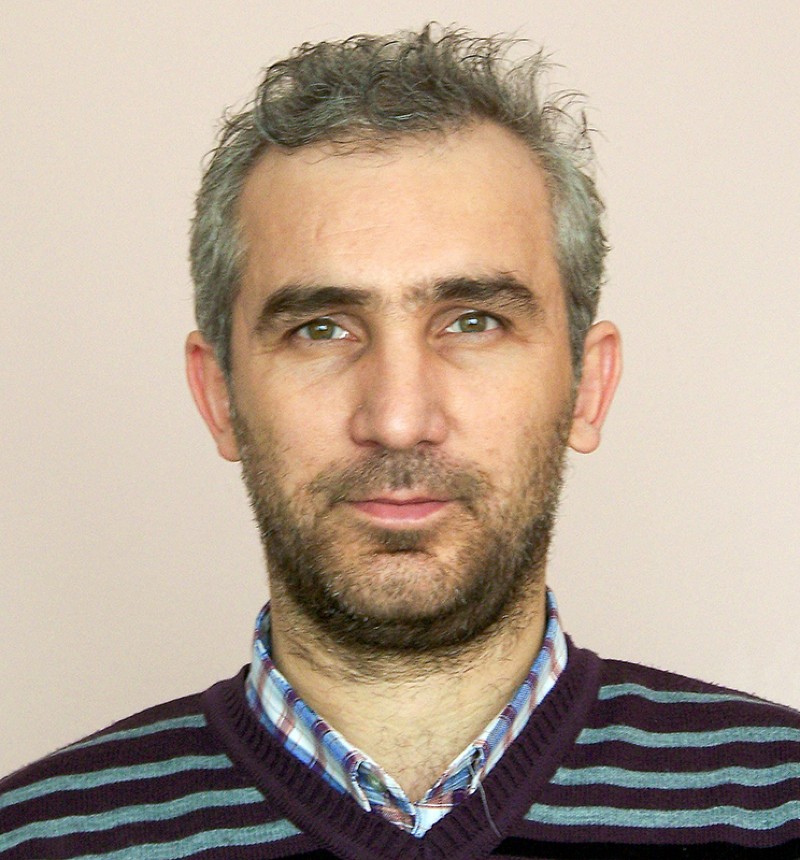 Nature interviewed Kaya by Skype about his experiences.
What access did you have to research materials while in the prison?
Of course there was no Internet. Nothing digital — not even a pocket calculator — was allowed. No books could be brought in. Nothing in a foreign language was allowed in the jail. One of my students Google-translated some research papers for me into Turkish, but they were held back on suspicion that they included secret codes — presumably because they contained so many equations.
I worked up the research ideas I had already in my head before my arrest. Of course, it took much longer than it would have done if I had been at my computer. I had to start from basic formulae and derive things myself.
But time is something you have plenty of in prison. OK, I could not do ground-breaking work, but I think the papers I produced are solid, and I expect to get them published in good journals.
What were the general conditions like for you there?
Probably the conditions were better than in some other prisons in Turkey. Prisoners came and went. At times there were as many as 30 people, but on average, there were around 20 of us in 140 square metres. The space was divided into several small rooms for sleeping and a larger area that had a television. We were allowed into an adjacent small yard during the day.
Presumably, these conditions were not as cosy for doing research as they might sound?
No. Sure, it sounds cool to say you did research in prison — but prison is a bad place and I wouldn't recommend it! The worst thing was the lack of contact. We were only allowed family visits for one hour a week, usually speaking through a glass partition on the telephone. We were also allowed a ten-minute phone call every two weeks. And I could speak to my lawyer once a week.
The first night in jail was the worst time of my life. I never gave up hope, but in prison you do often get a feeling that you might never get out, and nights are the worst.
But I told myself "They can take my freedom, but they can't keep me from doing physics."
How did you find quiet time to work in such a crowded space?
I was fortunate in my cellmates, many of whom were facing similar charges to me. Many were teachers. There was another assistant professor, and a doctor. We all got on well and the atmosphere was peaceful and respectful. I could sit at a little table with pen and paper and do my work.
You were in prison for almost 438 days: how did you spend all of that time?
I tried to learn Arabic, I played volleyball with others in the yard and I watched soccer on television. And I worked for several hours most days: that's what kept me sane.
How did your university respond to your arrest?
I was lucky that my university only suspended me. Many other universities sacked those arrested on suspicion of supporting the coup.
What were the grounds for your arrest?
Because of my appeal, I prefer not to speak too much about it. Basically I was accused of being a terrorist — officially, being a member of a terror organization. But I can say that the evidence was abstract and absurd. For example, one of the arguments in my official indictment was that I had visited the United States and Canada, countries favoured by supporters of the movement that the government believes was behind the coup. The reasons for my travel had been academic: I had been on sabbatical at McGill University in Montreal, Canada, and I held a seminar at the Massachusetts Institute of Technology in Cambridge and Tufts University in nearby Boston.
A Turkish court on Friday sentenced to prison a hunger striking academic who is protesting her dismissal after last year's failed coup, but released her pending appeal, her lawyer said.
Nuriye Gulmen was found guilty of being a member of an outlawed far left-wing group and sentenced to six years and three months in jail, Omer Faruk Eminagaoglu said after the hearing in Ankara.
However, the court ordered her conditional release, the lawyer said, adding they would appeal the conviction.
She will be released later on Friday from hospital where she has been since authorities transferred her into intensive care in September.
Gulmen, 35, was originally sentenced to seven years and three months but it was cut by one year for "good conduct" during her hearings before the court, the lawyer told AFP.
Teacher Semih Ozakca, also on trial and on hunger strike with Gulmen, was acquitted of the same charge of belonging to the outlawed Revolutionary People's Liberation Party-Front (DHKP-C), which has carried out sporadic attacks in recent years.
Ozakca had been released from prison in October.
The pair previously said the charges were fabricated.
The DHKP-C is proscribed as a terrorist organisation by Turkey, the European Union and the United States.
The defendants first began a protest in central Ankara late last year after their sacking by government decree under a state of emergency imposed after the 2016 attempted overthrow of President Recep Tayyip Erdogan.
They started a hunger strike a few months later.
They have become a symbol of the widespread crackdown in Turkey since the coup bid.
The pair are among over 140,000 public sector workers including judges, civil servants and police officers suspended or sacked since July 2016.
More than 50,000 have been arrested over alleged links to the movement run by Islamic preacher Fethullah Gulen who Turkey says ordered the attempted putsch.
He strongly denies the charges.
There are concerns over the health of the hunger strikers, who are only consuming salty or sugary water, herbal tea and vitamin B1.
They have now been on hunger strike for 269 days.
Şahap Kavcıoğlu, a deputy from the ruling Justice and Development Party (AKP), said academics, journalists and politicians who signed a peace declaration in 2016 do not deserve to live, Gazete Duvar reported on Tuesday.
Signatories of a peace declaration titled "We Will Not Be a Party to This [Turkish state's] Crime" and issued in January 2016 are facing accusations of disseminating terrorist propaganda.
"They smeared Turkey. They wrote that Turkey was carrying out a massacre and they signed it. With whom did they do this? Can there be such treason against the state? None of the academics, politicians and journalists who signed this declaration would even be given the right to life in any country. Putting them in prison aside, they would not be given the right to life," said Kavcıoğlu during a commission meeting in Parliament.
Trade union members more generally have also been heavily targeted by the government.
Our sister trade union in Turkey (Egitim-Sen) has seen over 1500 of its members
dismissed and, in total, more than 100,000 public servants in Turkey have been
dismissed or suspended by emergency decree. In the words of Amnesty International,
'Cutting 100,000 people off from access to work is akin to professional annihilation on a
massive scale'.
In addition to the mass firings of public sector workers, fifteen private universities have
been closed and hundreds of academics and students detained in the crackdown.
Fikret Başkaya, a professor of Economic Development and International Relations was detained following a police raid against his home in Ankara on Monday.
The 77-year-old academic and the author of several books was caught by Ankara police. While the charges raised against him were unknown at the time of this writing, media said police detained some pro-Kurdish Peoples' Democratic Party (HDP) members as part of the same investigation, too.
During the search, police seized his laptop along with three books including a copy of Başkaya's critical book, the Bankruptcy of the Paradigm.
NEW YORK—The arbitrary use of judicial power in targeting signatories of the January 2016 Academics for Peace petition is the latest in a long series of legal charges filed against civil society actors by authorities, and demonstrates the Turkish government's ongoing campaign to silent dissent in all its forms.
On January 11, 2016, Academics for Peace circulated a petition titled "We Will Not be a Party to this Crime," calling on the Turkish government to end its siege of Kurdish rebels in southeastern Turkey. After the failed July 2016 coup attempt, more than 4,000 academics were dismissed in a government effort to sweep out any opposition thinkers and Gulenist influences from higher education. Signatories of the Academics for Peace petition, many of whom have already been fired or forcibly retired from their positions, are now being tried on an individual basis on charges of "propagandizing for terror" under the Anti-Terror Law. The first court hearing is set for December 5, 2017, with others distributed among various criminal courts until April 2018. If convicted, more than 100 accused Academics for Peace signatories face up to seven and a half years in jail.
Source: TURKISH COURTS SET TO BEGIN HEARINGS OF PURGED DISSIDENTS IN ACADEMIA 
On December 22, 2016, Turkish authorities reportedly arrested three scholars from Uşak University on allegations that they were involved with a violent coup attempt on July 15, 2016. The scholars include Nurullah Şanlı, Aykut Yılmaz, and Sait Celik, the university's rector.
Following the July 15 coup attempt, Turkish authorities declared a national state of emergency, which has been extended multiple times, and remains in effect as of this report. Authorities have alleged that members of a movement led by Muslim cleric Fethullah Gülen were behind the coup attempt, and have taken a range of actions against members of the higher education community (among others) which they claim are intended to identify those parties involved, and/or to eliminate the Gülen movement's influence within Turkish institutions.
According to media reports, on December 22, police in Uşak arrested eight individuals, including the three university scholars, for alleged connections to the Gülen movement and the July 15 coup attempt. They were then taken to Uşak's police headquarters where they were reportedly charged with "being a member of a terrorist organization" and "aiding a terrorist organization." As of this report, the factual allegations, if any, forming the bases for the arrests are unknown.
Scholars at Risk is concerned about the arbitrary arrest of scholars as a part of sweeping actions taken by the State against higher education community members. While State authorities have a right to maintain order and respond to legitimate security concerns, such actions must comply with States' human rights obligations, including those relating to freedom of association, due process, and academic freedom, which are protected by international human rights instruments including the Universal Declaration of Human Rights and the International Covenant on Civil and Political Rights, to which Turkey is a party. In addition to the harm to the immediate victims, such incidents have a chilling effect on academic freedom and undermine democratic society generally.
UPDATE: On November 27, 2017, a Turkish court convicted and sentenced Professor Celik to 7 years and 11 months imprisonment on a charge of "membership to a terrorist organization."
Source:
Remark from Freedom for Academia (FfA): This is a letter (sic) we received from one of our (verified) followers; an academic who would like to remain anonymous. He states that he knows the imprisoned Prof. Ibrahim Cerrah (Criminology) and HESA – an initiative that Prof. Cerrah established in Turkey, and wanted to share his views on the two. The following are the opinions of the writer and does not necessarily reflect the official opinion of FfA. We aim to provide a platform for endangered, suppressed, oppressed academics of all nationalities, creeds and ethnicities.
Letter by an anonymous academic from Turkey:
REMEMBERING HESA: A TRIBUTE TO GOODWILL AND DEDICATION
After the failed coup attempt in July 2016, the Turkish government has shut down thousands of organizations, from schools to universities, civil society organizations, think-tanks and many others established to serve related purposes. None of these organizations were proven to have any direct or indirect link to those who have carried out the heinous act on 16th July 2016. The closure of these institutions were accompanied by the arrests of thousands of individuals whose names were already on the lists drawn up by the Turkish Intelligence Organization. The failed coup attempt was used as an excuse to eliminate all individuals and organizations considered as an opposition to the ruling AK Party. However, the massive purge was presented to the Turkish people as a necessary act to eliminate 'traitors' undermining the well-being of the country.
HESA (Hukuk Etik Siyaset Araştırmaları, which translates in English to 'Legal, Ethical and Political Researches') was among the many think-tanks closed by decrees issued by the Turkish government. It was established on 21st March 2014 as a policy institute with association status. The Advisory and Administrative Boards of HESA were composed of academics and executives who were well known with their works in the fields of law, ethics, economy and security. Just like many other institutions, HESA also started and continued its activities under the prevailing laws governing associations. Its activities were open to state inspection and its publications were public. HESA served its purpose for more than two years and filed necessary paperwork to remain operational. During this period of time, there was absolutely no criminal or any other case filed against HESA. However, after the coup attempt in Turkey, HESA was included into the list of institutions whose existence activities were considered as crime against the Turkish state. The founder and the President of HESA Prof. Ibrahim Cerrah was arrested at an Istanbul airport one week after the coup attempt.
As time passes, the names and the contributions of thousands of civil society organizations, think-tanks, and educational institutions fade into nothingness. Their memory and legacy are likely to fade away at a time people are terrorized with ongoing witch-hunt and massive purge aimed eradicating the so-called terrorist organization, FETÖ. This brief report is aimed at remembering the legacy of HESA, its contribution to academic and social life in Turkey and its founder Prof. Ibrahim Cerrah who is currently in jail serving an unknown period of time in a Turkish prison. A man who has spent his years to teach the cadets at Police Academy to respect law and fulfill their responsibilities in accordance with the constitution is facing unscrupulous charges. With its closure, the building was seized by the government and its website was taken down rendering it non-existent in one day. Two years of hard work and dedication by a group of people who have voluntarily gathered to help the country overcome its deep rooted problems were thrown into abyss without any regard to the services delivered by the institution and its value for the society. People of HESA did what they thought was best for the country and the society that they were part of. Our only hope is to see the days that HESA strived and worked hard to achieve.
The following lines are taken from a brochure that we were lucky enough to retrieve among emails sent for publication. This should only be seen as a note to ourselves and the generations to come that there is much to be done and this is what the people at HESA have tried…
What is HESA?
HESA was established to be a legal and ethical value-oriented think-tank organization to contribute to the field of politics by generating both theoretical and practical ideas. HESA considers the law and ethics to be the most fundamental building blocks of politics, and believed that a legitimate politics can only be established on the basis of these values. HESA aims to raise a 'public awareness and sensitivity' for the necessity of creating a political atmosphere where universal law and ethical values prevail.
HESA advocates that politics is a public service which must be conducted in accordance with legal and ethical codes and principles. HESA believed that a moral and virtuous politics cannot be possible if we claim that 'All means that take us to the target are legitimate', as stated by Machiavelli in The Prince. Although it may be legally possible to capture and/or maintain the ruling power by means of manipulation and speculation, it will never be legitimate morally.
HESA stands steadfast against laying waste to the sublime values born in Anatolia, especially in a period when all the gains of the Turkish Republic are being sacrificed for the sake of lusty cravings and passion to rule on the part of a small number of politicians. As very clearly expressed by Tom C. Clark, "Nothing can destroy a government more quickly than its failure to observe its own laws", and it is impossible for executive powers to genuinely serve their country and their nation by utilizing illegitimate practices and procedures.
HESA argues that the 'legal' and 'moral' legitimacy of political parties comes before their 'political' legitimacy and that high levels of electoral support cannot be the only source of legitimacy for political parties. No matter how great the support a political party has gained from the public, this shall never grant politicians the right to do whatever they want, to abandon universal law principles, or to infringe the laws and rule as they wish. The universal principle suggesting that "Human rights are the most sublime values and nothing can have superiority over them!" also binds politicians. Moreover, the statement "Right is might, not might is right!" proclaims that, no matter how powerful a politician is, he cannot act in whatever way he likes. Human rights are universal values that transcend political powers.
As even stated in the Code of Hammurabi, the rule commanding that "The strong shall not injure the weak!" points out that those who are exercising executive power cannot use this power arbitrarily.
HESA believes that the most fundamental problem with today's politics is individual and political 'degradation'. What is more alarming is the efforts of trying to justify the 'degrading' behaviors such as 'bribery and corruption', which are mere results of individual and political decrepitude, under the disguise of revered values like the fatherland, nation or the religion. The utilitarian conduct of a man trying to portray his unethical and illegal act, which he committed knowing that it is a crime, as legal and righteous by taking refuge in a noble cause is called 'noble cause corruption'. This kind of exploitation, which is as old as humanity, is a means of deception, often utilized by some politicians even today. It is a social reality that, if necessary precautions are not taken, degradation will lead to further degradations. It is very often seen that some politicians develop noble cause corruption and violate legal and ethical codes by hiding behind noble causes like 'serving to the exalted benefits of the country and the nation'. Whereas the statement "Do not commit immoral acts for a moral cause!" also expresses this notion, it is not possible to serve either the state, or the society with actions and methods that are against the legal and ethical codes. Notwithstanding the dirty politics that claim that 'the end justifies the means' and defends utilization of all kinds of illegal and immoral methods to reach and remain in power, for a legitimate and clean politics, both the ends and the means must be legal and ethical. 'One cannot reach perfection with imperfect tools' and 'If an end is believed to be good, the means and ways to reach that end, too, must be good and legitimate'.
HESA is a think-tank organization which firmly believes in the universal principle of 'Innocent until proven guilty' –the presumption of innocence' and affirms that political matters, too, must be addressed and investigated with legally and ethically unbiased, impartial methods.
Law is the lynchpin of legitimate politics, because it is itself universal and a mechanism of external control over political bodies. In this respect, a politicized judiciary, which has distanced itself from the principle of 'the rule of law' and become a tool of oppression and vengeance, may never comply with democracy. The statement "Justice is the foundation of a state" suggests that a state can maintain its existence only by justice, not by oppression and atrocity. As English philosopher John Locke says, "Wherever law ends tyranny begins", and one cannot serve and do any good to man or state by offending and infringing the law. Ethical values must have determinative influence over politics at least as far as the law is concerned. As well as the authority of the rule of law over the executive power, political ethics', which can be described as the reflection of the 'universal ethical values' in politics, also has great importance for implementing the ruling power justly. Since its capacity to influence initiatives is very large, to regulate politics with only penitential laws and resolutions – as a function of the external control mechanism – is not possible.
Ethical values address an individual's conscience, which is an area legal auditing mechanisms cannot reach. In this regard, laws and regulations are necessary, but are not enough on their own, to control the executive power. In addition to laws which can impose 'penitential sanctions', ethical values and principles which can impose 'inner conscientious sanctions' are also needed. The control of politics cannot be left to personal ethical and moral perceptions of politicians. The power that is acquired by means of politics is corruptive by nature. Sir John Dalberg- Acton's remark, "Power tends to corrupt, absolute power corrupts absolutely" underlines the fact about the point a political power which is not controlled with judiciary and moral mechanisms will reach. As well as law – the external control mechanism – executive power must be also controlled by conscience and moral codes – the internal control mechanism. Politics can be legitimate when it serves the 'public benefit', not when it serves only the personal and/or family interests of politicians or of a small group. A legitimate politics can be possible only when political bodies are 'transparent', 'accountable', act in accordance with the 'rule of law' and apply the principle "Judge yourself before you are judged" at both personal and institutional levels.
Research is an important starting point for determining and solving social problems. Concerning itself with every problem related to politics, HESA especially focuses on 'bribery and corruption' under the title of 'deprivation'. For this reason,
HESA believes that it is essential to conduct research into the effects of political degradation on social degradation by utilizing scientific methods. The most obvious indication of political degradation is the infringement of law and politicization of the judiciary by those holding power. No matter how much support a government receives from its constitution if it twists and violates the law, this action will overshadow all of its other deeds and credits, and will bring its 'political legitimacy', as well as its 'legal legitimacy', under question. Executive powers who impair their legitimacy by infringing the law can by the same token not be expected to show respect to moral and ethical values.
HESA Vision
To become an independent and impartial research and policy institute that: provides true and correct information; reveals civil society's needs and expectations of political officials and policymakers in the fields of law, ethics and politics, and socio-economical issues, benefitting from the academic experience and knowledge of experts; analyses these data by using scientific methods and sound judgement and conveys them to policymakers; advocates ethical principles and values to be practiced and exhibited in the applications and actions of policymakers; and, strives for a politics conducted in a manner compliant with local and universal values.
HESA Mission
•Conduct research based on scientific methods into social and political matters, analyses the data obtained and suggests solutions,
•Define society's expectations of policymakers and convey the outcomes to officials and decision makers,
•Help establish a 'pluralist, reconciliatory and participatory' understanding in the policy-making process, which promotes the view that social expectations should steer the government, not patronize political attitudes,
•Inform and the society about any possible negative developments and/or problems that may unfold in political life,
•Be the defender of public interests and the common good, adopting a completely nonpartisan approach,
•Create a platform where politicians and civil citizens can come together, and better know and understand each other,
•Urge policymakers to pursue the public benefit, in accordance with legal and moral principles, contribute to raising the quality of life in Turkey and exert effort to prevent any kind of deviation from this target,
•Organize informative meetings for the civil society,
•Hold national and international forums, conferences and seminars,
•Become an impartial, independent and unprejudiced research and policy institute.
Turkish police on Friday detained 22 former and current academics and staff members at İstanbul-based Marmara University as part of an investigation into the Gülen group, the state-run Anadolu news agency reported.
According to the report the Istanbul Public Prosecutor's Office has issued detention warrants for 42 academics and staff at the university on accusations of opening accounts at Bank Asya, which was seized by the government in early 2015, and using a smart phone application known as ByLock.
Turkish authorities believe ByLock is a communication tool among followers of the Gülen group.
Police raided and searched the offices of 24 who currently work at the university. The operations are continuing across five provinces to detain 20 suspects who are still at large.
According to the TurkeyPurge website about 8,700 academics have lost their jobs as part of a purge launched by the government following a failed coup attempt on July 15, 2016.